Estimated Shipping 10 - 15 Days
"Sailing Sailing" Pet Harness And Leash Set
Regular Price

$24.18
Sale Price

$24.18

Regular Price
Unit Price

per
"Sailing Sailing" Summer Nautical Pet Harness And Leash
Your little fur baby will look adorable in this nautical-themed harness with a matching harness. The harness has a heavy-duty "O" ring for the leash. Your little bestie will look great and very spiffy, outshining all the other dogs! 
Features
Nautical-Themed Harness and Matching Leash (2 Piece Set)
Reduces the burden, comfortable breathable dog harness vest pet lead for small to medium dogs.
Easy to Wear and Take Off
Suitable for Most Small and Medium Dogs and Cats
Please See the Size Charting for Sizing Information
Perfect for Summer Parties, July 4th Activities, and Photoshoots
 Description:
Material: Durable, Easy-Care Polyester
Colors: Red, White, and Blue
Sizes: S, M, L, XL
Size Chart
Size of XS(Clothing length, chest, neck):10cm, 24cm,15cm, Suitable for dogs weighing 1.0-2.0Kg
Size of S(Clothing length, chest, neck):11cm, 27cm,18cm, Suitable for dogs weighing 1.5-2.5Kg
Size of M(Clothing length, chest, neck):12.5cm,33cm,22cm, Suitable for dogs weighing 2.5-3.5Kg
Size of L(Clothing length, chest, neck):13.5cm,37cm,24cm, Suitable for dogs weighing 3.5-4.5Kg
Size of XL(Clothing length, chest, neck):15cm,42cm,27cm, Suitable for dogs weighing 4.5-6.0Kg
Leash: Length: 135cm,  Width: 1.5cm
Every detail cannot be ignored.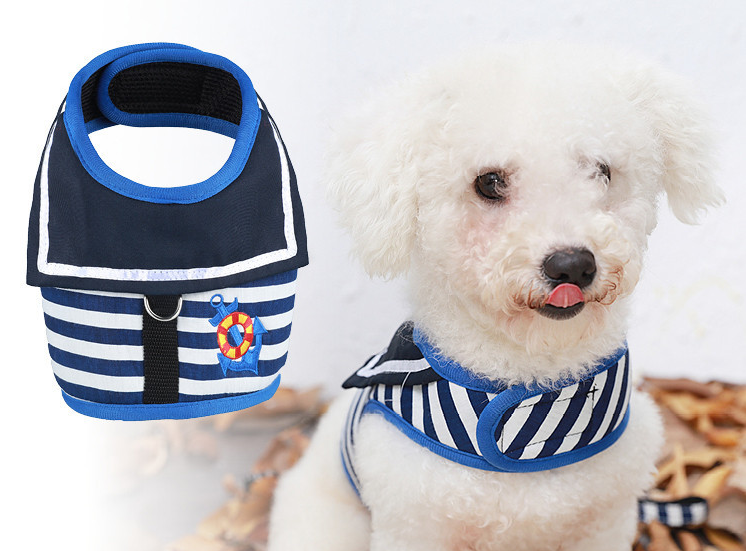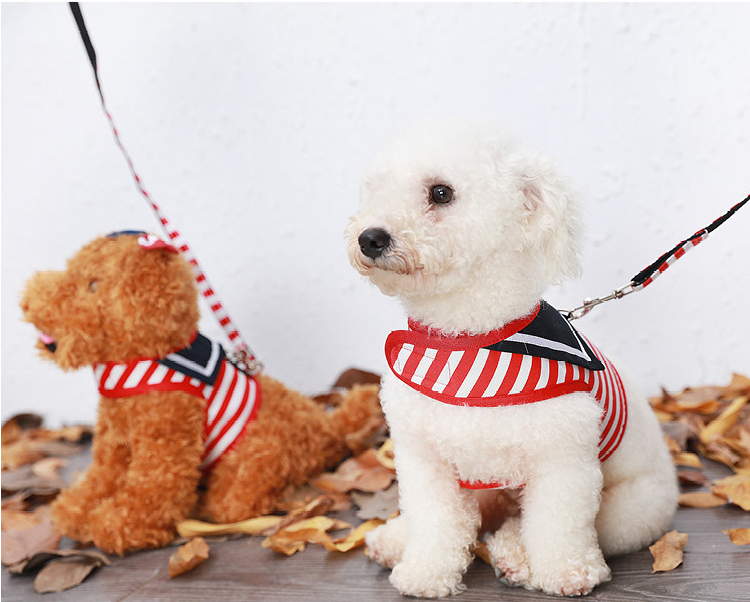 Item Care
We recommend dresses be dry cleaned to maintain their color and shape. All other items should be either handwashed in cold water and line dried, or machine wash in cold water with a cool dryer. Enjoy!
Andrea Johnston
U.S. SHIPPING
Standard Shipping Charge is $6.95 and is applied to all US Orders
Please allow 3 - 5 Business Days for processing on all stocked items. Once orders are shipped please allow 8 - 14 business days for delivery in the United States shipped items. Processing times can be 3 - 7 days. For Special Occasion dresses, since they are custom-made when ordered, may take up to 7 business days before they are shipped.
As some items are shipped from our overseas suppliers, please allow 14 - 21 Business Days for delivery of those items.
Should multiple items be shipped by our overseas suppliers, items may ship separately. 
All our special occasion, baptism, christening, flower girl, and communion dresses are custom-made when ordered. We want to make sure your dress is perfect for the special occasion and of high quality, so processing times for these items may take up to 7 business days. Shipping may take up to 21 business days. Please allow up to 30 Business Days for delivery. 
Please note: If you have ordered multiple items, these items may arrive separately and at different times. 
All shipping times are estimates, especially at holiday times.
INTERNATIONAL SHIPPING:
A flat shipping rate of $20 or $30 will be applied, depending on the shipping zone. The shipping rate will be determined at check out. 
Shipping times of International Orders depend on the shipping location. Generally, you should allow 21 - 35 business days for arrival, excluding holidays. 
Customs Duties and Taxes may be added, depending on the country the item is being shipped to. 
Why hasn't my package tracking updated in the last few days?
Are you wondering why the tracking status of your package hasn't changed in days? It can be frustrating when you're expecting something through shipment and the tracking information seems to be stuck in the same place for days. Don't fret too much though; sometimes tracking information can take a while to update correctly. If there hasn't been any movement on your package after a couple of days, give it some time and you should eventually see a change. Keep in mind that depending on where the shipment is located, or how it's being shipped, this could take anywhere from 24 - 72 hours since the last update. With that in mind, have patience and you should soon have your desired parcel!
Because of COVID-19, the processing and shipping times may be delayed somewhat.  We keep your health in mind when maintaining health and cleaning standards In these times, your patience is most appreciated.
Our goal is to offer you the most stylish children's clothes at affordable prices and help you make these childhood moments precious memories.
Thank you for your business. Your little one will love our clothes!