14- 20 Day Shipping
7 PC Babies Ultra-Soft Layette Set
 7 PC Babies Layette Set
These baby's layette sets are as cute as can be and make the perfect baby shower gift for mothers-to-be or as birth gifts for mothers of infants. They come in 15 designs and colors. Sized For Newborn - 3 months
Baby Clothing Set:
Includes: 2 baby tops, 2 pants (1 footed), 1 baby cap, 1 baby bib, 1 belly protector
Material: Made of Ultra-Soft Cotton for Baby's Sensitive Skin
The newborn clothing set includes:
1. baby hat, 2. belly protector, 3. bib, 4. baby top clothes with buttons, 5. baby top clothes with belt
6. baby pants without footies, 7. baby pants with footies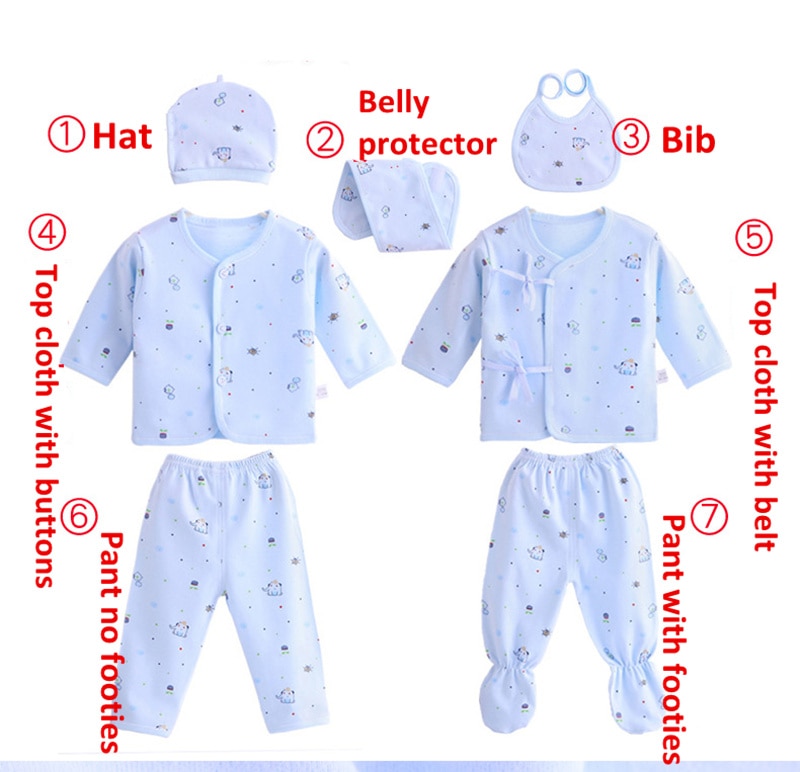 The 7 PC Babies Ultra-Soft Layette Set is the yin, to your yang. You've found what you're looking for.

Inventory Last Updated: Jan 26, 2022
Once your purchase item has been handed over to the mail carrier, we have no control over shipping times.Thus the shipping times we provide can only be estimates. Most of our items come from the United States and take and an estimated 4-14  business days to reach your doorstep after your product has been processed and shipped. Processing time can take 2-7 business days after purchase.
A few of our items come from our overseas and may take an estimated time of 14- 35 days, depending on the warehouse location and your location in the world. However, these products are  well worth the wait. Overseas shipping times can vary according to the warehouse and your locations in the world.
Because of COVID-19, the processing and shipping times may be delayed somewhat.  We keep your health in mind when maintaining health and cleaning standards In these times, your patience is most appreciated. Our goal is to offer you the most stylish children's clothes at affordable prices and maintaining your health in mind.
Thank you for your business. Your little one will love our clothes!
Andrea, ThePalmBeachBaby.com
Processing Times may take from 5 to 7 days in addition to shipping time.